If you're a fan of Apple's products and you're looking to buy a laptop, there aren't a lot of choices available to you. Laptops with Windows or Linux operating systems are out of the question, so what's left is a couple of machines from Apple. You need to figure out which one of these laptops is the right choice for you. There is no machine that will fit all needs. You might need the very powerful MacBook Air that is also a very mobile machine, or you might prefer getting the latest MacBook laptop which has a Retina display.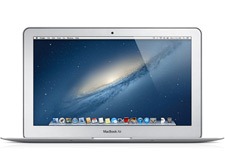 Each option has its advantages and disadvantages, so ultimately you need to look at your options and you need to decide which one is right for you.
If you want a MacBook which weighs little and is thin, the Air model is probably what you're looking for. It has a 720p camera, a storage solution that is fast, good graphics and processors from Intel. It's more than enough for most people, so as long as you're not looking to play games or work on graphics on it, it will do just fine.
If you do want something better, you can go either with the regular MacBook Pro, or you can go with the latest model which has a Retina display. There are 13 inch and 15 inch displays available on these laptops, so you can go with the size that is best. Do you need mobility or you need a bigger screen?