Cloud computing has become a global phenomenon and it is being adopted by increasing numbers of organizations all over the world. There are many aspects of cloud computing. These include public clouds, private clouds, online cloud storage, software as a service, infrastructure as a service, platform as a service and so forth.
According to the 2013 Future of Cloud Computing Survey 75 percent of respondents use at least one kind of cloud platform. The main drivers are business orientated (52 percent) compare to 36 percent that are IT orientated. However the biggest growth areas tend to be IT orientated. These are big data, mobile, cloud backup, management of systems, security, and help desk. Reducing costs is seen as a major driver.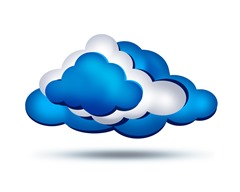 Although the main application currently is Software-as-a-Service which is used by 63 percent of respondents, the fastest growing sector is infrastructure-as-a-Service (IaaS), though it is thought that Platform-as-a-Service (PaaS) will be the dominating growth area in the future; 72 percent said that they would by using it within the next five years.
There remains certain reluctance about moving to the cloud, and the main concern is security. However fewer organizations than last year have security concerns. Last year 55 percent of non-cloud using respondents said that security was the main reason why they had not adopted the cloud, and this year that had fallen to 46 percent.
According to Doug Clark, the head of cloud computing at IBM UK, the main drivers of cloud computing in terms of adding value to an organization and marketing the organization as a service are intelligence, context, reach, pace, and economics. Intelligence concerns the power of data analytics and applying it in situations where it will bring about an improvement; context involves addressing the specific user requirements; reach involves exceeding the physical boundaries of the organization; pace is simply the ability to move rapidly and be flexible and adaptable; and economics concerns improving the efficiency and reducing the cost of IT resources that can be achieved by moving to the cloud;
Many organizations are successfully applying these factors and in doing so are making significant improvements to how their organizations are delivering to their customers. Some examples of this include Sci-Tech Daresbury which offers computing as a service through its 'Blue Joule' computer which it is claimed is the most powerful computer in the UK and is being used for such applications as climate modeling and the detection of diseases; Wimbledon tennis and other major sporting events are sharing cloud resources in response to sports fans demand peaks to deliver an improved experience to sports fans; and TP Vision the joint venture that produces and markets TV sets with the Philips brand uses the cloud for its smart TV services for managing TV software.
If you would like any further information on moving to the cloud, then please visit Mimecast.com; a software as a service company focused on unified email and data management.