Cloud Computing is a term related to information technology services and resources. Resources that are received by outside entity are termed as "cloud" formation. The services in the cloud are provided by companies and accessed via internet.
In cloud computing models, customers basically rent for the infrastructure. Cloud computing is also affects reliability and scalability. In a cloud infrastructure, security improves and also improves resource utilization. Users need not have knowledge or control over the technology infrastructure "in the cloud".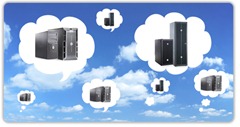 There are many companies who provide cloud computing services. It's not just a shift from traditional software models to the Internet but the next decade of cloud computing will be expected through mobile devices. The term cloud may be used as a metaphor for Internet, based on how the Internet is depicted in computer network diagrams, and is an abstraction for the complex infrastructure it.
Business applications have always been very complicated and expensive with variety of hardware and software required. With cloud computing, you can get rid of the managing hardware and software problems. You are only required to pay for your need in a better and easy way. As cloud computing is gaining popularity, thousands of companies are taking services as "cloud computing." Some analysts define cloud computing as an updated version of utility computing which is virtual server available over Internet.
The latest innovations in this field are to make business applications even more mobile and collaborative. With Cloud2 keeping up with your work would be as easy as your personal life on Face book. It is a way to increase capacity and capabilities without investing in new infrastructure, or licensing new software. Cloud computing in real time over the Internet, extends capabilities. Now Server hardware, capacity, maintenance and all It support – forget all! Let Storm-IT worry about that.